Community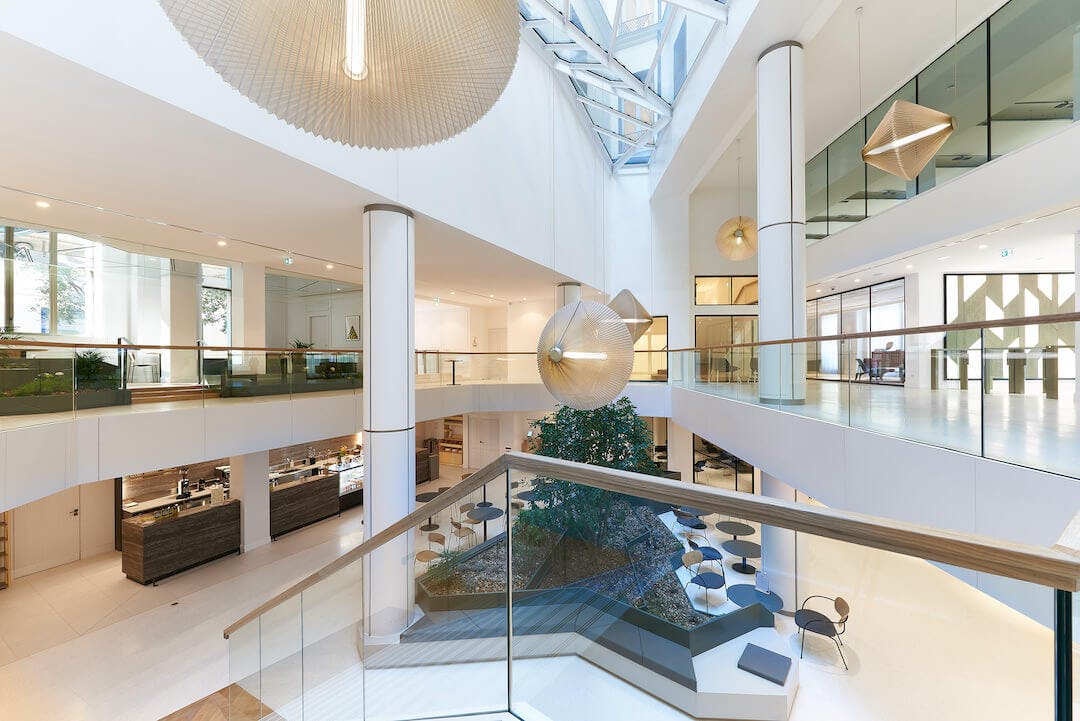 Market indicators for the first half of the year are out: Deskeo takes stock
State of the market
Despite the uncertainty of the market due to the turbulent economic and geopolitical context, Paris continues to attract companies. Take-up in the first half of 2022 was up 24%* compared to 2021 over the same period (1,008,400 sq. m), driven mainly by a need to modernise space to meet users' new expectations and by a need for centrality. The share of office transactions in the CBD increased by 41%**, a location where Deskeo has a strong presence.
Deskeo, performance at all levels
Since September 2021, Deskeo has been backed by Newmark Group, a leader in international real estate consulting and listed on Nasdaq. Being able to benefit from the support and experience of a major international group is a real sign of confidence in the innovative model implemented by Deskeo. Since the merger, Deskeo's ambition is to double its office portfolio to 150,000 sqm by 2024 and to develop new services for owners and companies who want to reinvent the employee experience to meet new post-covid expectations.
In an uncertain economic context, the Deskeo model based on a hybrid and flexible offer in 100% private spaces and premium buildings is all the more relevant for all the users (Tech, SMEs, international corporate groups) with whom we work on a daily basis.
Since January 2022, Deskeo has announced the signing of 8 new spaces located in the heart of Paris and in La Défense, with an average occupancy rate of 90% for its entire portfolio. With 75,000 sqm already in place, these signings add a further 10,000 sqm to reach 85,000 sqm of office space in operation by the end of the first half of 2022, including 5,000 sqm dedicated to meeting and event space.
Deskeo has reached a turning point in its real estate development by strategically choosing to take on leases of larger surfaces of +1,000 m2.
It should be noted that between 1,000-5,000 sqm, the share of coworking and flex-office operators in the wider CBD is 25%** in the first half of 2022.
"We are actively pursuing our development thanks to the renewed confidence of our landlords and the creation of new partnerships which have enabled us to sign 79 rue de Clichy (Paris 9, 4,309 sqm) among others." Lydia Haouzi, Director of Real Estate Development at Deskeo
Deskeo invents the office of the future
The office of the future is now to be considered as a real social hub around which employees gravitate and where they go to live a real experience. It is becoming a catalyst ecosystem for productivity, collective performance and creativity. Between telecommuting and flex-office, the challenge for companies is to rethink the office to encourage a work/life balance, bring back conviviality and create social links.
A model focused on the user experience
Deskeo spaces are equipped with complete infrastructures and services in the common areas, as in a hotel. But in the image of its client companies. An offer of innovative services that we are constantly developing to maximise the well-being of users (concierge service, work-café, wellness area, furniture, IT services, security, maintenance, etc.), some of which are enhanced by outdoor spaces and rooftops. Deskeo is responsible for maintaining and optimising their attractiveness and responding to a demanding customer service by ensuring compliance with the standards in force.
User and landlord satisfaction is measured through our My Deskeo Services App, which facilitates the daily experience of our users, and encompasses all Deskeo services.
Environmental commitment at the heart of our priorities
Making your workspace, a "low carbon" ecosystem for the company and its employees: that's what sustainable office is all about. We have published a Sustainable Office guide with key steps and endorsed by CSR ambassadors and experts such as CBRE, La Française, Deepki, Mano Mano, Magelan, Phenix.
The Deskeo model is twice as sustainable as the traditional lease*** in terms of works/IT, furniture, branding.
Our mission: To be a true challenger of the ecological transition in the real estate sector.
*Source: CBRE
**Source: BNP
***Source: Deskeo Carbon Footprint

Contact Us
We find your Perfect fit!