Community

End of lockdown: 31% of French people will refuse to wear a mask at work
Key findings:
43% of French people do not yet know when they will return to the office
79% of respondents are worried about going back to work
68% still don't know what mode of transport they will use
1 in 2 French people would like to continue teleworking most of the time during the deconfinement phase
32% would like to telework 1 to 2 half-days per week after the Covid-19 episode
A misplanned deconfinement?
The French are far from having chosen the date of their return to the office. Indeed, more than 43% of the people questioned do not yet know when they will come out of confinement. Only 9% will take advantage of 11 May to return to their place of work, the lowest percentage compared to other possible dates: 11% from 18 May and 15% from 25 May. It should be noted that 22% say they have already returned to the office.
The salary of fear
In the midst of a period of uncertainty, 8 out of 10 French people (79%) are worried about returning to the office. This feeling is shared more by women (83%), who are even more worried than their male counterparts (74%).
"The French need to be reassured by their employers. In this period of crisis, it is vital that companies actively communicate with their employees so that their return to work is serene and under the best possible conditions. This is also why we have decided to release a Back to Work Guide that contains answers to all the questions that French managers are asking themselves in the run-up to 11 May" commented Frank Zorn, co-founder of Deskeo.
"I walk alone!"
As regards the means of transport that will be used to return to the office, the same observation can be made: 68% of French people do not yet know how they will get around. However, there is an initial trend: respondents will want to avoid public transport (4%) and carpooling (1%) at all costs during the deconfinement phase. Conversely, they will favour individual means of transport: 18% of French people will come to the office alone, whether on foot, by bicycle or in a motor vehicle.
Masks on?
Life in the office will be very different after containment and certain practices such as wearing a mask are likely to be in vogue. The vast majority of French people will therefore be equipped with face protection, but here again the uses will be different: 25% will wear a mask all day, compared to 34% in the presence of other people only. We also note that nearly 1 in 3 French people (31%) will refuse to wear a mask at the office.
It should be remembered that the company has the possibility of imposing the wearing of a mask on its employees, as part of the employer's health and safety obligation. As stated in our Back to Work Guide, our recommendation is to require your employees to protect themselves with a mask whenever they are in motion in your offices and building (stairs, lift, common areas, etc.). When an employee is sitting at a desk with no one within 1.5 metres, it is reasonable for them to be able to remove their mask to carry out their daily tasks.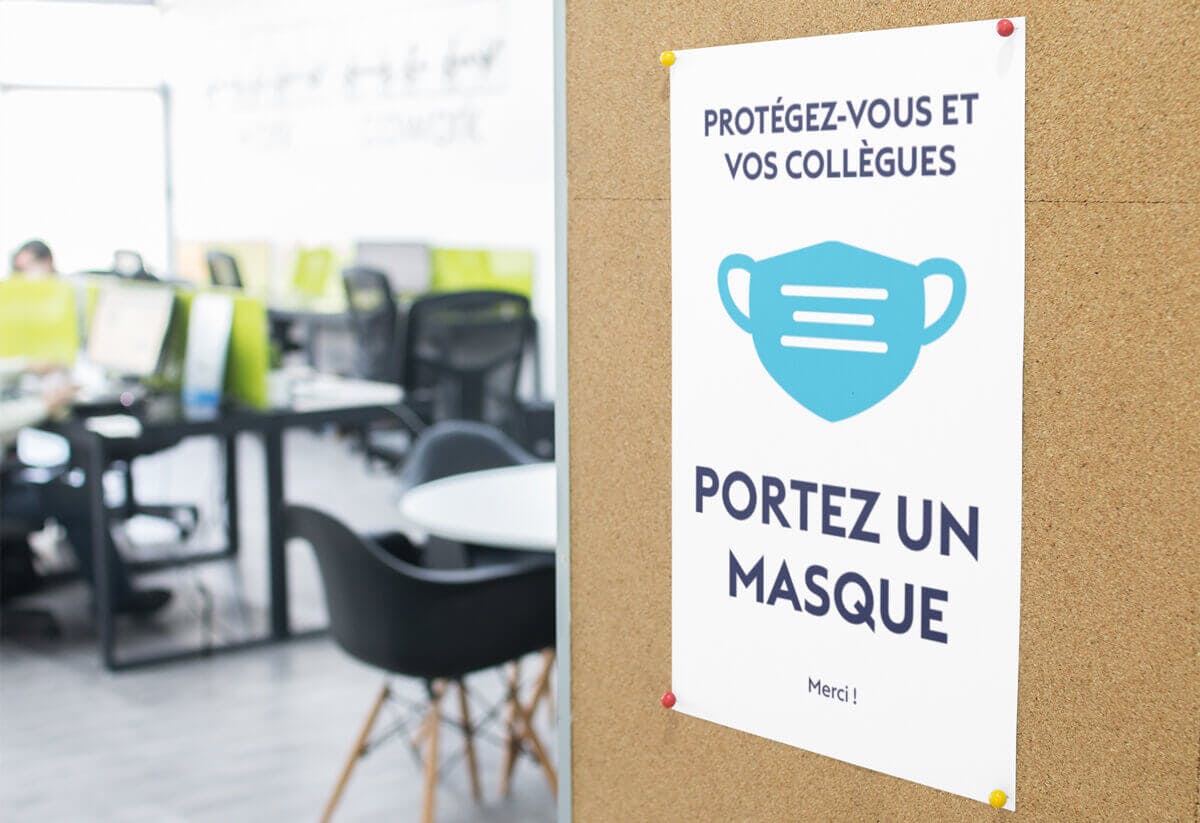 Too many meetings
If there is one place where it is difficult to be alone, it is in meetings. Thus, 21% of respondents say they will refuse to attend physical meetings at work. The 79% who are in the majority will be able to meet under certain conditions: 26% if the social distance of 1.5 metres is respected, 36% if all people wear a mask and 5% if a check has been carried out on the participants. Finally, 12% will not have any particular prerogatives to attend a meeting.
Yes to telework, but for how long?
If the French have had the opportunity to get used to teleworking since 17 March, 22% of them are looking forward to the end of teleworking. Despite this, an overwhelming majority of respondents (78%) would prefer to continue teleworking during this phase of deconfinement. In detail, one in two French people (48%) would like to continue working from home most of the time until the situation is fully under control.
But what will happen once the Covid-19 episode is over? There is a good chance that this period of confinement will lead to major changes in the habits of the French. Indeed, 70% of them want to continue working remotely on a regular basis after the Covid-19 episode. For most of them (32%), the ideal rhythm would be to telework 1 to 2 half-days per week.
"The generalization of telework is a cultural shock for a company, even if it is one day a week. We don't manage in the same way from a distance, yet the challenge is that we don't feel the difference. This transition must be accompanied to help all the stakeholders find their bearings" observes Frank Zorn.
At the same time, the results of this survey show that only 17% of French people would like to work remotely the majority of their time. "This is proof that offices will continue to occupy an important place in the daily lives of the French," comments Frank Zorn. "But companies will have to think about their workspaces differently from now on. If employees have more opportunities to work remotely, their offices must be comfortable and ergonomic enough to make them want to go there. Tomorrow, people will no longer go to the office out of obligation but to be productive and to collaborate in the best possible conditions."
The co-founder of Deskeo also anticipates a change in real estate strategy on the part of companies. "If a significant proportion of the workforce is working remotely on a regular basis, this will lead to reflections in terms of office layout and use of space. Managers will have to re-evaluate their needs and may decide to opt for smaller, better located, better equipped premises... In any case, flexibility will be at the heart of the debates in the coming months. Few companies have the ability to commit to a 9-year lease in such an uncertain period" adds Frank Zorn.
It doesn't take much to telework?
To be effective in a home office, 78% of French people admit that they are sorely lacking in equipment at home: screen, printer, etc. Secondly, 66% deplore the lack of Internet speed to telework properly. Finally, 59% of respondents need contact with their colleagues and 53% lack space.
"As far as teleworking is concerned, our survey shows that the desire is there, but that the conditions are not yet right for it to be really effective. The French still encounter obstacles to being truly productive at a distance: quality of equipment, insufficient Internet connection, lack of space, difficult collaboration... There is still a long way to go, which also shows that it is in the office that the optimal conditions for working are found" comments Frank Zorn.
Who pays for telework equipment?
Finally, when asked about the two thirds of French people who consider that their home is not sufficiently equipped to telework properly (see previous question), only 11% plan to invest out of their own pocket, while 51% hope that their company will contribute to the necessary investments (screen, chair, printer...).
For Frank Zorn, "if companies want telework to really work, there is a small investment to make. A few dozen euros can be enough to considerably improve the comfort of teleworkers, especially since it is a proof of trust that your employees will particularly appreciate."
"We are aware that decontamination is going to be a complex transition period for the French and for companies. Therefore, we have written a Guide to returning to the office to help all professionals to be well prepared. Who to bring back first and when? How to organise the return to work? Should I impose the wearing of a mask in the office? What system for lunch breaks? These are just some of the questions to which this document, produced by the Deskeo teams, provides concrete answers. You will also find a free kit containing: 20 posters to be printed for your offices, a catalogue of selected service providers (gloves, masks, gel, thermometers, etc.) and a questionnaire to be carried out internally to determine who should be the first to return to the office" concludes Frank Zorn, co-founder of Deskeo.

Contact Us
We find your Perfect fit!