Advice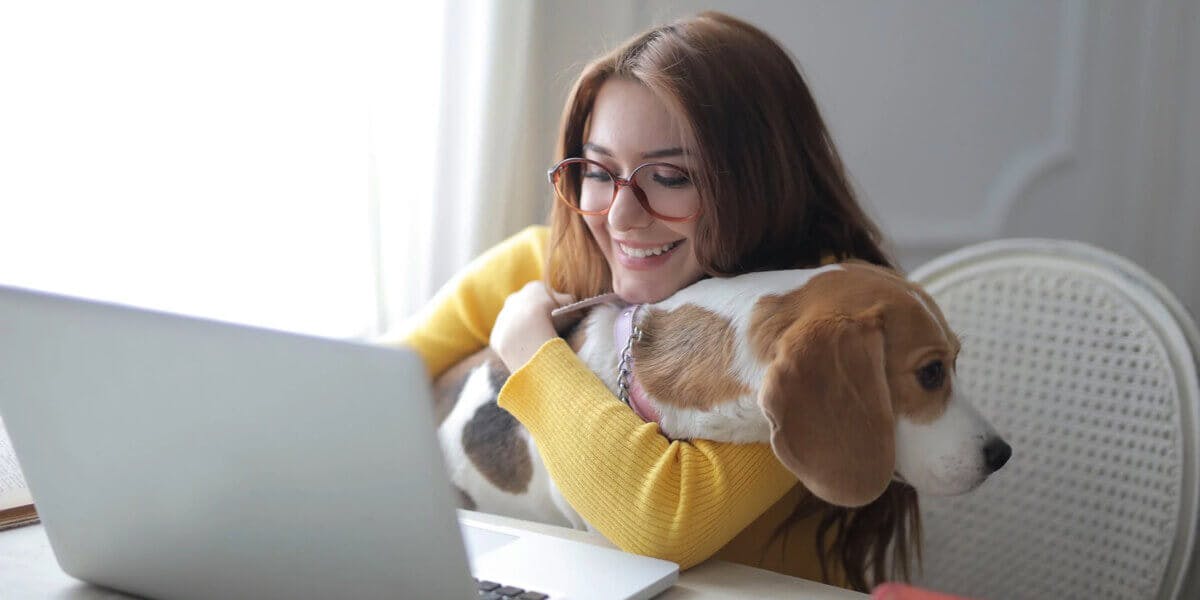 Teleworking: 20 tips for being effective in containment
In the context of the current pandemic, 70% of French people work remotely with the instruction to limit travel to a strict minimum. Within the Knotel group, world leader in flexible offices and parent company of Deskeo, several teams have been working remotely for nearly five years. Here are the best tips from their experience on how to maximise home office productivity and thrive while working remotely.
Keeping up the pace
If you are one of the 89% of French people who are not used to teleworking, this message is for you. Confinement can quickly enable our worst failings: laziness, isolation, depression... Get into good habits now to stay motivated throughout the confinement:
Establish a morning routine. Get up at the same time every day, shower and get dressed (every day!). Don't let yourself get into a lethargy that can quickly become depressing.
Stop for lunch. Don't let yourself eat at your computer. Take a few minutes to cook when you start to feel hungry. This will take away the urge to snack and take your mind off things. A good reason to dust off that cookbook from the back of the library.
Take breaks. Tidy up your wardrobe, sort out your clothes, deal with your administrative phobia (at last), throw away, clean that fridge, change that light bulb that's been waiting for months etc. Clear your mind several times a day, it's often when you're doing something else that you get the most creative ideas!
Get some exercise. Make sure you allow some time for physical activity. You can go out for a jog or a brisk walk. You can walk up and down your stairs several times a day. You can also do yoga, or more intensive workouts from home through the magic of the internet. Hundreds of videos exist!
Take advantage of the time you save commuting. Don't be like 54% of French people who work longer hours in their home office. Consider these extra minutes as a bonus: cook, play with your children, turn on your old video game console... take some time for yourself!
Say stop. When you're done working, close your computer, get up and do something else. Right now! Otherwise, you risk falling back into it and looking up an hour later.
Keeping the flame alive
To stay motivated, it is important to keep in touch with your colleagues. Not only does this help you develop a sense of belonging to a group, but more importantly, it keeps you sane and reduces feelings of isolation.
One of the best ways to maintain this social link from a distance is to use a teleconferencing tool such as Zoom, Google Hangouts, Facetime, Skype... The idea is to keep in touch, to exchange in a more instinctive way and to chat with your colleagues.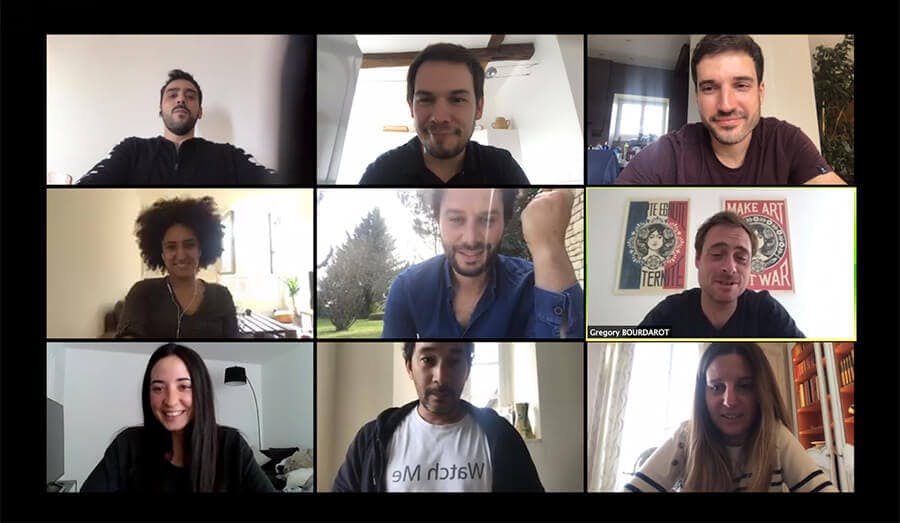 Practical: We have our little darling among videoconferencing services, Whereby, which requires no installation or account creation. A simple link is all you need to start a call with several people (4 people maximum in the free version).
Some teams like to leave their webcams on all day to develop the feeling of working together. In this case, the ideal is to display this window on a separate screen to imitate the feeling of proximity of a real office.
Others prefer to keep their webcams off most of the time. One can want to maintain privacy while remaining focused and efficient in one's work. The tools mentioned above can be used in audio only mode, a hybrid mode favoured by some but difficult to maintain throughout the day. Without eye contact, one quickly forgets that the microphone is on...
Taking care of your relationships
Office life is not limited to your daily tasks. Beyond the actual working time, the human relations you have with your colleagues have a huge impact on your well-being and your general morale.
Over the coffee machine or in the corridor, you develop personal relationships between departments that contribute to the smooth running of your company. Even if you don't work together on a daily basis, these relationships are the glue that binds your organisation together, making your company a great place to be.
In teleworking, even with the best will in the world, it is difficult to maintain these informal relationships. Start by getting into the habit of sharing coffee breaks with different colleagues or having lunch together via video conferencing.
Here are some tools to help you avoid routine:
House party : An application that allows you to play remote games such as Time's up or Trivial pursuit.
Drawnames : Enter the list of your colleagues, Drawnames draws random pairs. Initially created to facilitate the organization of secret santa, it is ideal to allow your colleagues to meet for a virtual coffee.
Netflix Party : A web-app that you just have to install on your Google Chrome browser. It will allow you to watch your favourite series remotely. Ideal for showing your favourites to your colleagues during your breaks!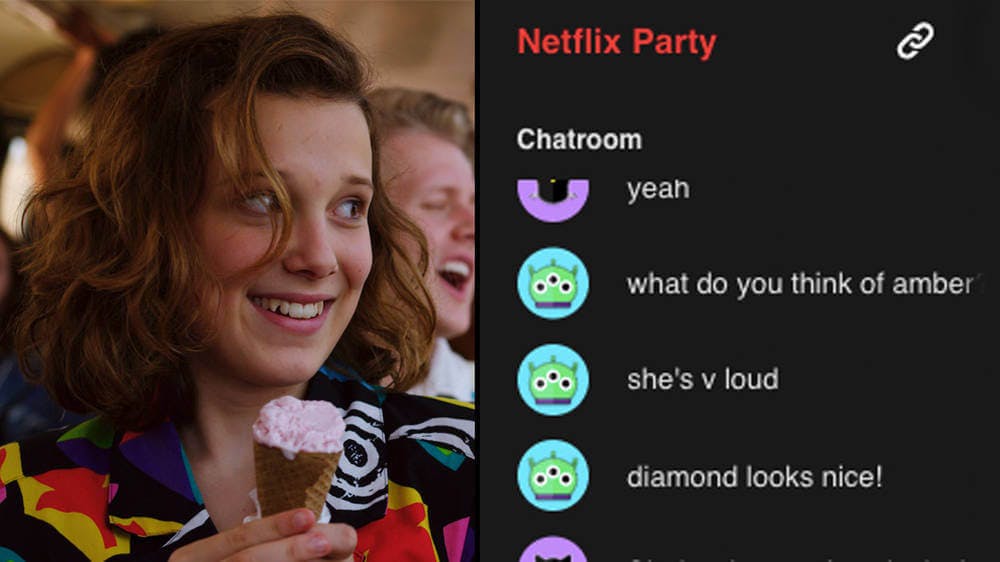 Lunch with accounting on Monday, happy hour with marketing on Tuesday, coffee break with Fred from HR on Wednesday... Take advantage of the confinement to talk to people you don't usually meet. When you hang up, you'll really feel like you've had people in your living room.
Setting a framework
Flexible working hours are one of the main advantages of teleworking. However, it is important to set a framework for your daily organisation, both to maintain a work/life balance and to prove your seriousness to your employer.
Define a dedicated space for teleworking
While the ideal is obviously to work in a dedicated home office room, our recent survey shows that 73% of French people unfortunately do not have this luxury. Even if you are short of space, try to dedicate a space to teleworking, even a corner of the sofa or a piece of table. Little by little, you will learn the automatisms that will allow you to concentrate quickly and be more efficient.
Tidy up your workspace
Just like in the office, a healthy workspace helps you to be more productive. You don't want to work in the middle of dirty dishes. Tidy up your workspace and you'll feel better (and can turn on your webcam without fear).
Share your schedule
Would you rather start your day later or take a long lunch break to get some exercise? That's possible and your colleagues will respect it as long as things are clear. Don't hesitate to block out in your diary the time slots during which you are not available.
Be rigorous
More than ever, set yourself objectives and a to-do list of what you want to achieve each day. Checking off or crossing off each completed task is extremely important for your morale. Remember to go through your to-do list at the end of the day to look back on the work you have done, it will give you a real sense of satisfaction and a job well done, which is essential for staying motivated.
Maintain your family balance
If you are confined to your children and spouse, don't wait for things to go wrong before taking the lead. Your children demand a lot of attention and will find it difficult to understand that you are there but not there. To avoid overheating, it is better to be proactive. Think about setting up time slots dedicated to your children several times a day (a morning and an afternoon break, for example) and divide the tasks with your spouse. We're likely to be cooped up for several weeks, so if you neglect your family, teleworking may be the least of your worries...
No secrets between you
Whether you are confined to your home with your three children, in the countryside with random Wi-Fi or alone in a 20m2 studio, rest assured that the current conditions are not ideal for anyone.
Don't feel the need to hide or sanitise your home. Especially now, everyone is in the same situation! Show your colleagues around your home. Introduce them to your family and friends, let your children jump on you and greet your colleagues in their own way. No one will begrudge you this closeness, on the contrary. It's a great way to bond with your colleagues!
In these difficult times, we can all benefit from a little more fun, friendship and intimacy.
Mutual aid and solidarity
Altruism and solidarity can only be beneficial. Do you have elderly people in your building? Offer to run their errands or print out government exit permits for them (avoiding contact). They often have little access to the internet and rarely have a printer available.
Teamviewer allows you to take control of a computer remotely. A tool that can be very useful to help your grandparents or your family who do not understand the internet very well. You can easily take control of their computer to install Skype for example.
Finally, take care of yourself, take care of others, (re-)discover your passions, check up on your loved ones, get bored, develop your imagination... in short, take advantage of this rather special period to live differently and decide what you want to change in your habits at the end of the confinement. One thing is certain, you will never have been so happy to go to work. I can't wait to get back to work!

Contact Us
We find your Perfect fit!