Advice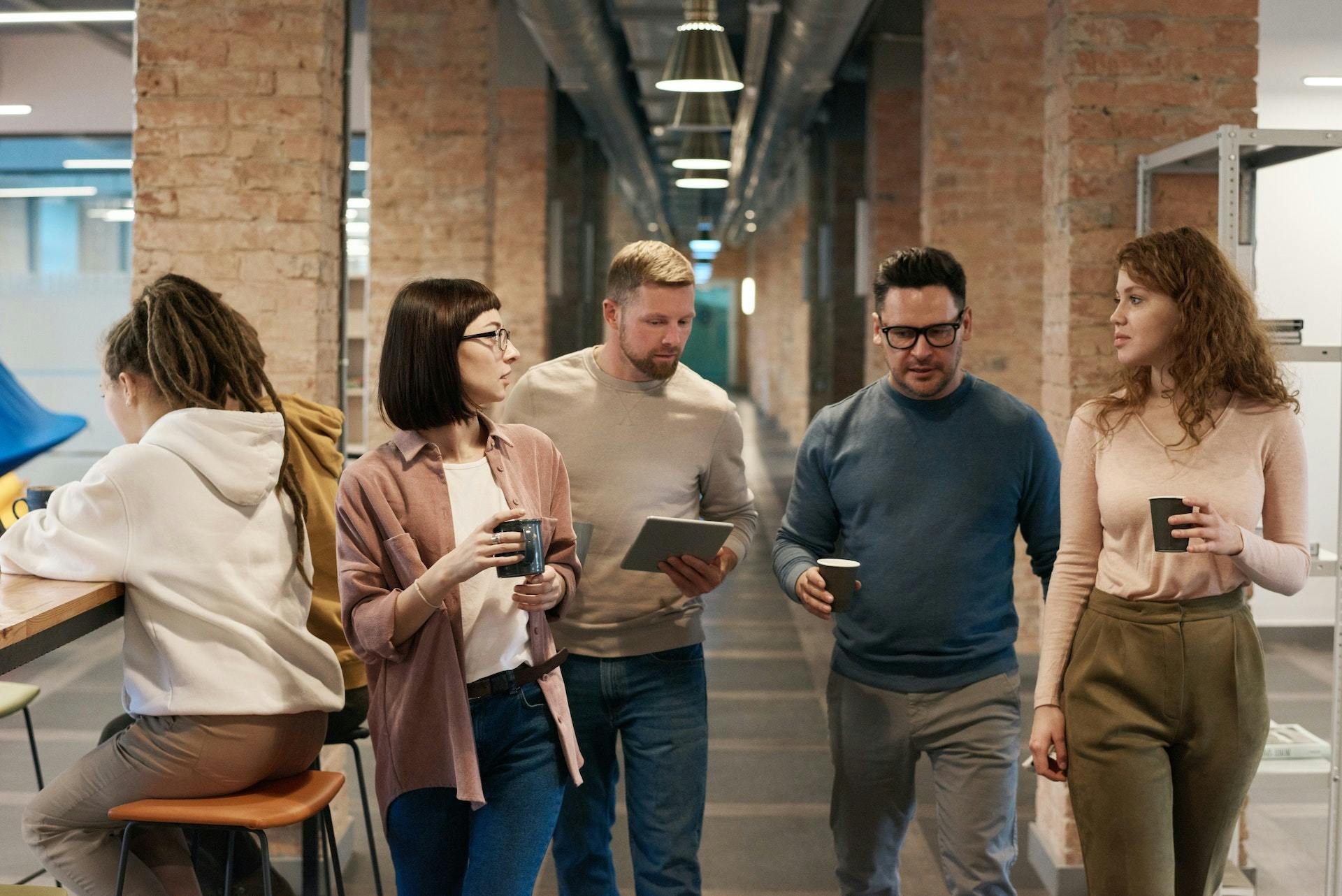 Stand-up meetings: your ally for dynamic and productive meetings
What is a stand-up meeting?
A stand-up meeting is a short meeting where participants stand rather than sit around a table. But let's take a closer look at the basics of this concept.
An innovative concept
The concept of the daily stand-up meeting (DSM), also known as a Sprint or Scrum meeting, was inspired by lean management and the Agile method, two approaches that aim to improve the efficiency and flexibility of businesses.
Many successful entrepreneurs, such as Jeff Bezos (the head of Amazon), have adopted this format to energise their teams and boost productivity.
The 3 key questions of a stand-up meeting
During a DSM, each participant must briefly answer three essential questions to review the progress of the current project:
What have I achieved since the last meeting?
What do I hope to achieve today?
What obstacles or challenges am I facing?
| Question | objective |
| --- | --- |
| What have I achieved since the last meeting? | Sharing achievements and identifying progress |
| What do I want to achieve today? | Define your immediate goals and commit to achieving them |
| What obstacles or challenges am I facing? | Express your difficulties and ask the team for help |
The 3 benefits of stand-up meetings for businesses
The stand-up meeting is not just a fashionable trend in the business world: it offers real advantages to companies that adopt it:
It saves time and increases efficiency.
It improves the quality of exchanges.
It sharpens participants' motivation.
Saving time and improving efficiency
DSMs are reputed to be shorter than traditional meetings. By standing, participants are encouraged to be concise and to get straight to the point. This saves valuable time and increases productivity.
Encouraging communication and transparency
By answering the three key questions in the sprint meeting, participants share their achievements, objectives and any obstacles.
This gives the team a better understanding of the tasks in hand and enables them to work together to overcome any difficulties.
Dynamic and committed participants
Standing has a beneficial effect not only on health, but also on participants' motivation.
Moving around :
stimulates blood circulation
improves brain oxygenation,
and makes teams more attentive and responsive.
All the members of the meeting are likely to be more focused and energised.
The scope of stand-up meetings in a number of sectors: case studies
Stand-up meetings are particularly popular in dynamic, collaborative work environments such as those found in start-ups and technology companies.
However, they are not limited to these sectors.
Whether you work in healthcare, education, marketing, human resources or finance, sprint meetings can be a valuable tool for energising your team and improving communication.
Many sectors have already successfully adopted this approach to promote better team coordination and more fluid decision-making.
Here are a few concrete examples:
| Sector | Example of the use of DSM |
| --- | --- |
| Healthcare | Doctors and nurses can use daily meetings to plan the day's care and discuss changes in patients' state of health. |
| Finance | Scrum meetings can provide an opportunity to take a quick look at key figures, the latest market developments and discuss the latest news. |
| Technology | Software development teams often use DSMs to share problems and define the next stages of projects in progress. |
| Education | Teachers and school staff can use sprint meetings to discuss students, plan the day's activities and take stock of their concerns and ideas. |
Ultimately, the success of a scrum meeting depends on adaptability and a willingness to experiment in order to determine what works best for you.
That's why you shouldn't hesitate to adjust the structure, duration or topics covered according to your needs and those of your team.
The main objective should always be to improve collaboration, the exchange of information and your company's productivity.
Rules to follow for a successful stand-up meeting
Would you like to hold daily stand-up meetings to boost your team's productivity? Then here are a few golden rules to follow to make your meetings a success.
The 6 rules to follow
To organise an effective daily briefing, you need to :
Find a quiet, suitable place for the meeting.
Gather around a whiteboard or a standing desk to make it easier to take notes.
Eliminate sources of distraction, such as PowerPoint presentations, laptops and smartphones.
Invite only those employees directly involved in the project to attend the daily briefing.
Define the points to be discussed at the meeting in advance.
If possible, schedule your stand-up meetings at the beginning of the day.
But let's take a concrete example to see exactly how a scrum meeting works in practice.
Example of a stand-up meeting
Warm welcome and reminder of the objectives of the meeting (1 minute).
Each participant briefly shares their achievements, challenges and plans for the day (6 minutes).
Discussion and collaboration to resolve any problems (2 minutes).
Close the meeting and remind participants of the tasks ahead (1 minute).
How can you introduce stand-up meetings in your company?
Are you convinced of the benefits of stand-up meetings and want to introduce them into your company? Setting up a system of stand-up meetings is not complicated, but you need to proceed methodically.
You'll need to :
Establish the frequency and duration of meetings.
Prepare your meeting.
Invite only the team members concerned by the subject.
Determining the frequency and duration of meetings
Before introducing stand-up meetings into your organisation, it is crucial to determine their frequency and duration. Needs may vary depending on the project and the team, but a daily 10-minute meeting is a good start.
Prepare the topics and questions to be addressed
Anticipate the topics and issues that might be raised during the stand-up meetings to ensure that they run as smoothly as possible. Encourage participants to prepare their contributions in advance.
Keep the number of participants to a strict minimum
Make sure you invite only the people involved in the project, to facilitate discussion and avoid wasting time. Remember that the DSM is first and foremost a collaboration tool!
By following these few simple steps, you'll see that the transition from traditional meetings to DSM will go smoothly and that your team will quickly adapt to this new approach.
You now have almost all the tools you need to run effective stand-up meetings. But you can do even better... Deskeo tells you how.
Tools and techniques for a successful stand-up meeting
As you will have realised, setting up stand-up meetings can be really good for your productivity. To maximise the effectiveness of your meetings, however, it is important to equip yourself with the right tools and master certain techniques.
Visual and digital aids
Digital tools such as interactive whiteboards and project management software can make it easier to organise and follow up stand-up meetings.
You should also consider using visual aids, such as post-it notes or graphics, to illustrate the points discussed and summarise the essential information.Animer un stand-up meeting à distance
In today's environment, it's essential to know how to manage remote meetings. For a virtual stand-up meeting, opt for videoconferencing, with good image and sound quality.
Bear in mind the key principles of the "stand-up meeting":
conciseness
active participation
and the exchange of relevant information.
In conclusion: don't wait any longer to adopt the stand-up meeting!
In short, the stand-up or "daily" meeting is the key to dynamic, collaborative and productive work meetings.
By adopting this method :
save time
improve communication within your team
and foster a smoother working environment.
So don't hesitate any longer and take the plunge: set up stand-up meetings in your company! Find out more about our meeting rooms for hire in Paris.

Contact Us
We find your Perfect fit!