What's new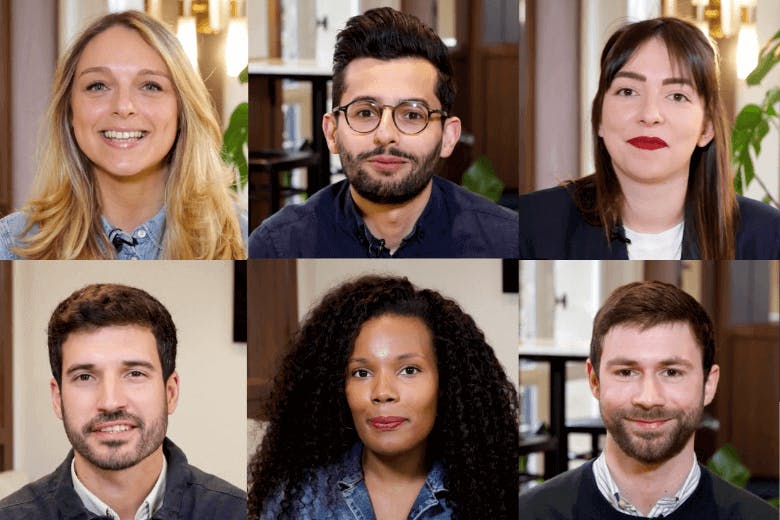 The Deskeo teams
Behind the beautiful spaces we show you are over-motivated teams, who work every day to make the office a unique experience for its users. They are the Deskeo dream team! Discover their faces, their jobs, their challenges, and what drives them every day. And believe us, they have a lot to tell you! Welcome to the Deskeo backstage.
[Episode 1] Adélaïde – Interior designer
Our mission: to create a unique office experience for employees. And for that, we need talents like Adélaïde Magny!
Interior architect and design project manager at Deskeo for the past year, Adélaïde knows the trends inside out and is inspired by everything she sees. Materials, furniture, decoration: everything goes into creating design, functional and eco-responsible spaces that perfectly reflect the DNA of each company... and in which the teams feel good! It's a job she loves, and we love listening to her 🤩
[Episode 2] Kamal – Space Operations Manager
If we had to describe Kamal Mohamedi's job, we would say that it is thanks to him that we can offer you the best Deskeo experience 🤩
Space Operations Manager, Kamal is committed to making the daily life of company directors, office managers and employees who work in our spaces easier. And he does it wonderfully ✨
[Episode 3] Laura – Implementation Project Manager
Laura Thillay is like our conductor! She works with all our departments and external service providers, and coordinates the projects with a master's hand so that everything is perfect on the day our clients arrive.
The enthusiastic "wow" of the employees who walk through the door of their new offices is thanks to Laura, Implementation Project Manager! Another talent we couldn't do without. She tells you more in video 🤩
[Episode 4] Lisa – Senior Sales Account Executive
Lisa Camalet is one of those people you never forget! Smiling and bubbly, our Key Account Manager has been showing us every day for the past 3 years why she is made for her job. What stimulates her on a daily basis? Exchanging ideas with all types of companies and responding ever better to their work organisation problems 💪🏼
With her infectious good humour, Lisa reveals all the secrets of her job as a sales representative at Deskeo... and more! 😉
[Episode 5] Martin – Head of Asset Management
Creating value on assets, developing products, perpetuating our business model... This is what we call Asset Management. But in a real estate sector in the throes of change, what does that mean in concrete terms? 🤔
You may find it difficult to visualise the challenges of this profession (and that's normal!). So we asked Martin Lagahe to explain it to you in a few minutes. The challenge was met by our Director of Asset Management, and it's fair to say that he's pretty good at it 💪🏼
[Episode 6] Paul – Content & Editorial Manager
Do you read our communications and news? Are you a subscriber to our newsletter? Then you are familiar with our 6th talent: our Content Manager Paul Pouhin 🤗
Paul is our writer: he writes Deskeo's content and ensures that it is published correctly on all our platforms. He's also our source of creativity: he's full of ideas for engaging and value-added content. Giving a fresh look to commercial real estate, a mission that he takes on every day with brio 🤩

Contact Us
We find your Perfect fit!