Advice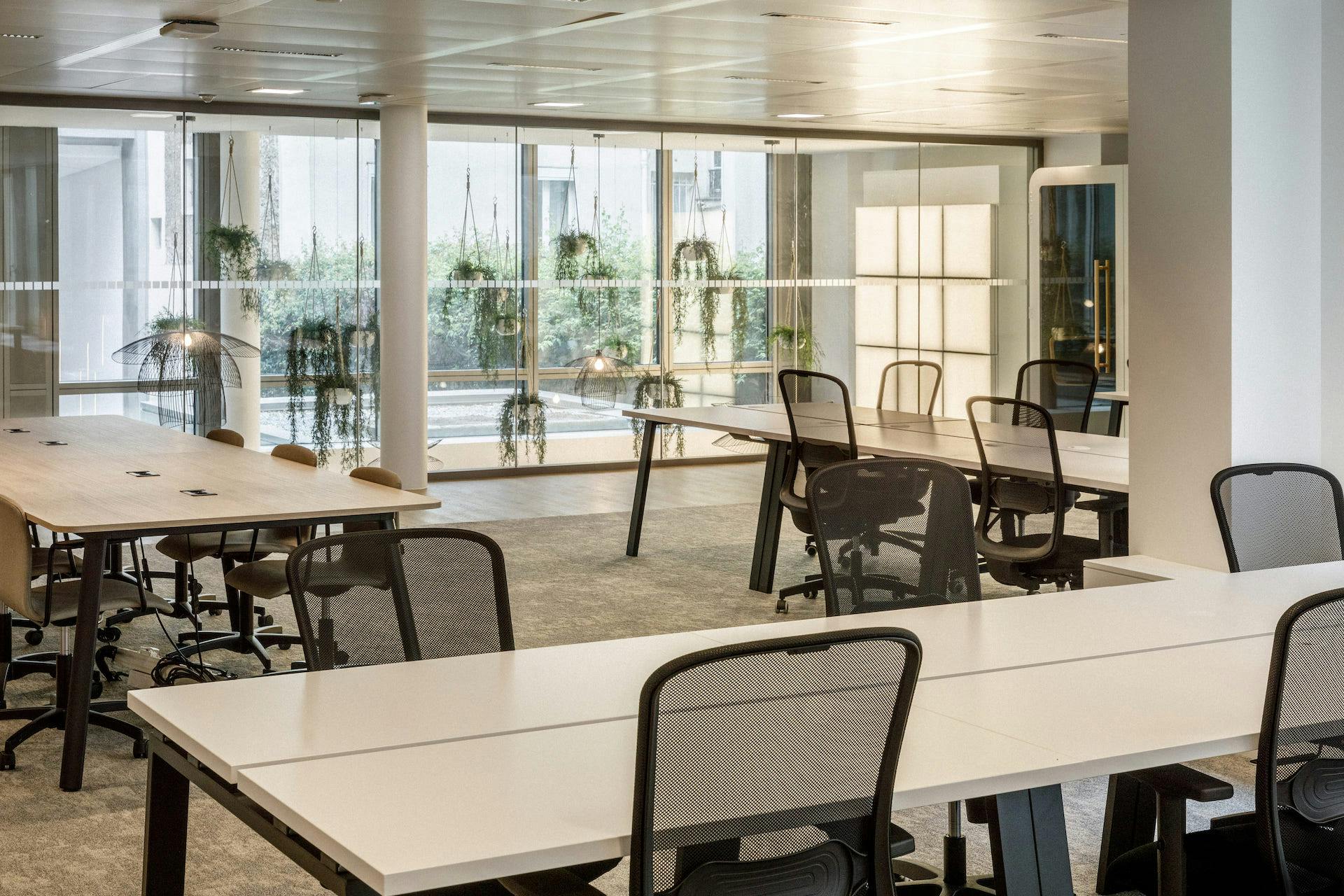 Discover average office rental prices per m² in Paris
What is the average office rental price per m2 in Paris?
Looking for the ideal office in Paris? As you probably know, office prices in Paris are quite high... but they can vary greatly from one arrondissement of the capital to another.
That's why it's important to have an idea of the average price per arrondissement before you start your search. And that's just as well, because Deskeo has compiled the average prices in each arrondissement for you.
| Arrondissement | Average price m² |
| --- | --- |
| 1er arrondissement | 557€ |
| 2e arrondissement | 572€ |
| 3e arrondissement | 550 € |
| 4e arrondissement | 478 € |
| 5e arrondissement | 522 € |
| 6e arrondissement | 486 € |
| 7e arrondissement | 532 € |
| 8e arrondissement | 614 € |
| 9e arrondissement | 551 € |
| 10e arrondissement | 499 € |
| 11e arrondissement | 453 € |
| 12e arrondissement | 436 € |
| 13e arrondissement | 372 € |
| 14e arrondissement | 410 € |
| 15e arrondissement | 415 € |
| 16e arrondissement | 520 € |
| 17e arrondissement | 523 € |
| 18e arrondissement | 359 € |
| 19e arrondissement | 336 € |
| 20e arrondissement | 356 € |
Are Paris prices too high for you? Are you thinking about relocating your company's offices elsewhere in France? There's no doubt about it: property prices in Paris are much higher than those in the provinces.
So, if you have the opportunity, it may be more than worthwhile locating your premises outside the capital.
Just take a look at the table below to see for yourself.
| City | Average price per m² per year |
| --- | --- |
| Lyon | 217 € |
| Marseille | 178 € |
| Toulouse | 152 € |
| Nantes | 179 € |
| Bordeaux | 226 € |
| Lille | 177 € |
| Strasbourg | 165 € |
Factors driving office rental prices in Paris
As you can see, the Paris market is complex and varied. But why do prices differ from one district to another, or even between two similar offices?
There are 3 main reasons:
The location and quality of the premises.
The surface area.
Demand and supply.
But let's take a closer look.
The location of the premises
Not surprisingly, location is one of the most important criteria in determining the cost of renting an office.
An office located in the centre of a popular business district, close to shops and close to the main public transport links (metro, transilien, etc.) will therefore be much more expensive than an office located in a less central and less accessible area.
Office space and layout
Size counts too! The bigger the office, the higher the rent is likely to be. But don't be fooled by the fact that surface area is not the only factor to consider.
You also need to take into account the quality of the building, the general condition of the premises and the services available (lift, security, green space, etc.). A well-designed office with good accessibility and optimised space may be more expensive per square metre than a less functional one.
Demand and supply of offices in the capital
The Paris market is subject to strong demand and limited supply, which helps to keep prices high.
However, certain trends are shaking up the Paris real estate landscape, such as the rise of coworking and the search for new, fast-changing districts.
Price trends for commercial property in Paris
The diversity and dynamism of the Paris commercial property market has always attracted businesses.
Historically, this strong demand has kept office rental prices up. However, following the health crisis and the development of teleworking, the Paris business property landscape has undergone a number of changes.
There has been a (slight) temporary fall in prices and an increase in demand for flexible space that is adapted to the changing needs of businesses.
But don't be under too many illusions: despite this trend, business property prices in Paris are still significantly higher than those in other French cities.
2 unbeatable tips for finding an affordable office in Paris
Do you dream of a Paris office without spending all your savings on it? Here are 2 tips that could help you find that rare gem.
Get off the beaten track: less popular districts
Don't limit yourself to the most prestigious addresses! There are many less high-profile but equally attractive and dynamic districts, where prices can be lower.
Outlying districts or areas undergoing major change often offer interesting opportunities, with more affordable prices per m2.
Think in particular of premises located near stations or public transport links (metro, transilien, RER, etc.).
Opt for alternative solutions: coworking and office sharing
Rather than renting a traditional office, why not explore other options? Co-working spaces are springing up all over Paris, offering flexible solutions at lower cost.
Sharing offices between several companies is also an excellent way of reducing rent and service charges, while promoting professional synergies.
Have you found an unbeatable rent? That's a good thing. But be careful... Rent isn't the only factor to consider.
Ancillary costs: be prepared to anticipate all the costs associated with renting an office
When planning your budget for renting an office, it's important not to focus solely on the rent. There are also additional costs, which may vary depending on the characteristics of the premises and the lease agreement.
Here is a non-exhaustive list of these costs to take into account to avoid any surprises:
Service charges (maintenance of common areas, electricity, heating, etc.).
Taxes (office tax, property tax, TEOM, etc.).
Insurance (fire, water damage, etc.).
Administration and agency fees.
Fitting out and equipping the premises.
Negotiation and support measures: tips for a successful rental contract
When you're preparing to rent an office for your business, negotiating certain terms of the contract with the lessor can help you benefit from advantageous conditions and substantial savings.
Here are a few tips for incorporating negotiation elements and support measures into your office lease.
Be well prepared beforehand.
Negotiate the rent and the term of the lease.
Ask the landlord for any improvements or work to be carried out.
Ask for a grace period.
Offer additional guarantees.
In short, don't hesitate to start negotiating when renting an office: it can help you get better terms and save money in the long term.
What should I bear in mind?
As you can see, office rental prices per square metre in Paris are quite varied. You'll need to study the market carefully to get a clear idea of the budget you need to set aside for your project.
Average prices vary depending on the arrondissement and the characteristics of the premises (available surface area, accessibility, lift, security service, etc.).
To save money on your rental, explore less popular districts and opt for alternative solutions such as coworking.
Remember to anticipate ancillary costs such as utilities, taxes, insurance and building work.
Try to negotiate for favourable rental terms.
Locating your business in a provincial town can save you a lot of money.
Are you looking for workspace or offices for your business in Paris? Take a look at our online offers and get in touch so that together we can find the right place for you! All our offers on office rental in Paris.

Contact Us
We find your Perfect fit!