Impact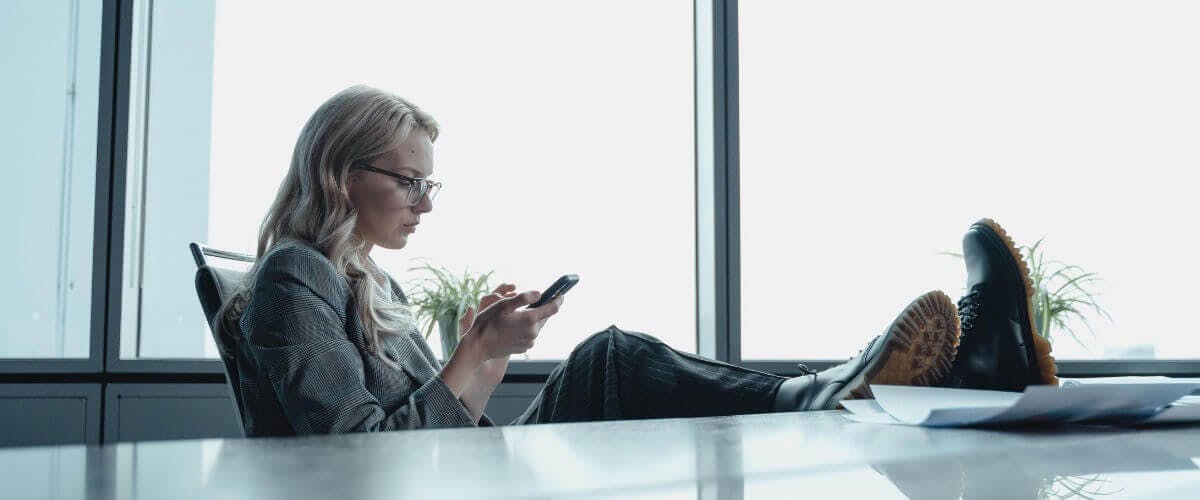 How to (re)motivate your teams during containment?
We are all aware that these are anxious times for companies and the talents that make them up. According to our latest survey, 66% of French people are pessimistic about the future. Between the loss of social ties, fear of the future, difficulty in projecting oneself and the economic slowdown... How can you succeed in (re)motivating your teams and instilling energy and mutual support? We have compiled a short guide to good practices to put in place.
One word: trust
We know that remote working is something relatively new for many companies. This evolution in the way of working does not necessarily please everyone and gives a hard time to managers who have to show adaptability, supervising their teams from a distance.
But keep one thing in mind, teleworking does not mean loss of productivity (!), quite the contrary. Nothing is more motivating for an employee than the trust and autonomy you will give him/her. In any case, everyone is teleworking, so you must abandon the idea of total control of your employees' every move, which is a source of unnecessary and harmful stress. Trust your employees, they have a capacity to adapt that you do not suspect, as demonstrated a few months ago.
So it's up to you! You have all the cards in hand to be the new e-managers of tomorrow.
Solidarity and dialogue
In these difficult times, it is imperative to look after each other, including in the company!
To overcome the lack of social ties, several options are possible. Here are a few that you can already put in place within your teams:
Continue to organise informal meetings with your employees. The morning coffee break is still the ideal time. You can review the day's tasks and prioritise future assignments. Be careful: the aim is not exclusively to talk about work, it is a moment of exchange that will allow you to take the general temperature of your teams.
Encourage dialogue between your employees. It can sometimes be difficult for an employee to confide in his or her manager, and this is understandable! It is easy to think that low morale will be interpreted as a drop in motivation, and this is very often wrong. By doing this, you will help to create a real circle of goodwill between your employees, beyond personal affinities.
Organise one virtual afterwork per week. The way it works is simple: on a voluntary basis, divide your teams up randomly during an informal meeting by videoconference from 6pm to 7.30pm for example. The idea is to keep in touch with the different teams who can quickly find themselves cut off from each other.
The Deskeo touch: once a week we have also introduced an evening dedicated to teams. On the agenda: blind tests, quizzes, etc. The idea is to get together in a fun way around predefined games in which everyone can participate. The answers are given in real time on the Google meet chat, to better decide between the respondents!
Projects, projects, projects!
Is activity tending to slow down? See it as an opportunity!
This is the time to take your nose off the page and review your entire strategy. Launch some major projects, review your internal working methods and processes (yes, the drive overflowing with scattered documents is part of it), or finally complete that project that has been stagnating for months in your task manager due to lack of time.
And, perhaps most importantly, delegate! Your employees will thank you for giving them long-term assignments for which they are fully responsible. This will give them the opportunity to organise themselves as they wish, to evolve in complete autonomy, while keeping in mind the imposed deadline. Adopt a coaching posture to help them carry out their assignments successfully, always with a view to trusting management.
How about a review?
Working remotely is an opportunity for you to take stock with your teams, which would normally require a lot of organisation and availability. Take the temperature, reassure your employees, mobilise them around common projects, and share your vision of the future.
Taking stock also means taking a step back from your performance. Use this precious time to talk to each of your employees about their strengths and areas for improvement.
It's time to boost them, challenge them, and above all, integrate them. These periods can be very anxiety-provoking for them (fear of redundancy, loss of a sense of belonging, etc.). This is the ideal time to talk to them about themselves and their contribution to the company.
The issue of home-based equipment
Working from home is one thing, working comfortably is another.
Did you know that your employees can adapt their home into an efficient workspace, without the need for particularly sophisticated tools, and get immediate improvements? Well, yes, it is possible!
Whether it's a 20 square metre studio or a 200 square metre house, our office designers and interior architects can give you tips on how to work more comfortably in your home office (from identifying your future workspace to the right posture). Don't hesitate to share these best practices with your colleagues.
Transparency
Nothing is more frustrating for your employees than to be in the dark about what is going to be done in their own company. It is important that they have an overview and that you provide them with the information you have.
This can be about the efforts the company is making in this period of uncertainty, what projects are to be activated, what projects have been put on hold... More generally, how have you reviewed the objectives for the year and how do you see the coming months?
Even if the news is not necessarily good, it is important that employees prepare themselves in advance.
One solution you can consider is to hold a weekly All Hands meeting. This informational meeting, held by video conference by your managers, allows you to address the whole team: it is an opportunity to discuss the changes within the company and the main lines of thought or avenues for reflection. Each manager will then have the opportunity to answer the questions raised individually with his or her team.
Mens sana in corpore sano
A healthy mind in a healthy body. All advice is good to live this situation at best. We have listed some good practices recommended by our staff:
Sport as an outlet. We all know that feeling of fulfilment and personal satisfaction after a good sports session. Don't lose the rhythm! It is possible to continue exercising from home. Whether it's a step class, Zumba, weight training or yoga, there's something for everyone. There are plenty of options to break up your daily routine, clear your head and return to work more motivated than ever! There are many websites offering online sports courses. Don't hesitate to check out the online videos of the Club Med Gym Facebook group!
Take up meditation! Gain serenity with the Petit BamBou application. On the programme, over 900 sessions ranging from stress management to sleep disorders, available on all your devices. The 8 free sessions of the discovery programme are waiting for you!
Improvise yourself as a chef! We're not going to teach you anything, Marmiton is THE reference site for cooking in France. However, did you know that the mobile application offers a recipe generation function based on what you have left in your fridge? So get on your smartphones! A special containment tab is even available on their website and mobile application.

Now it's up to you!

Contact Us
We find your Perfect fit!