Advice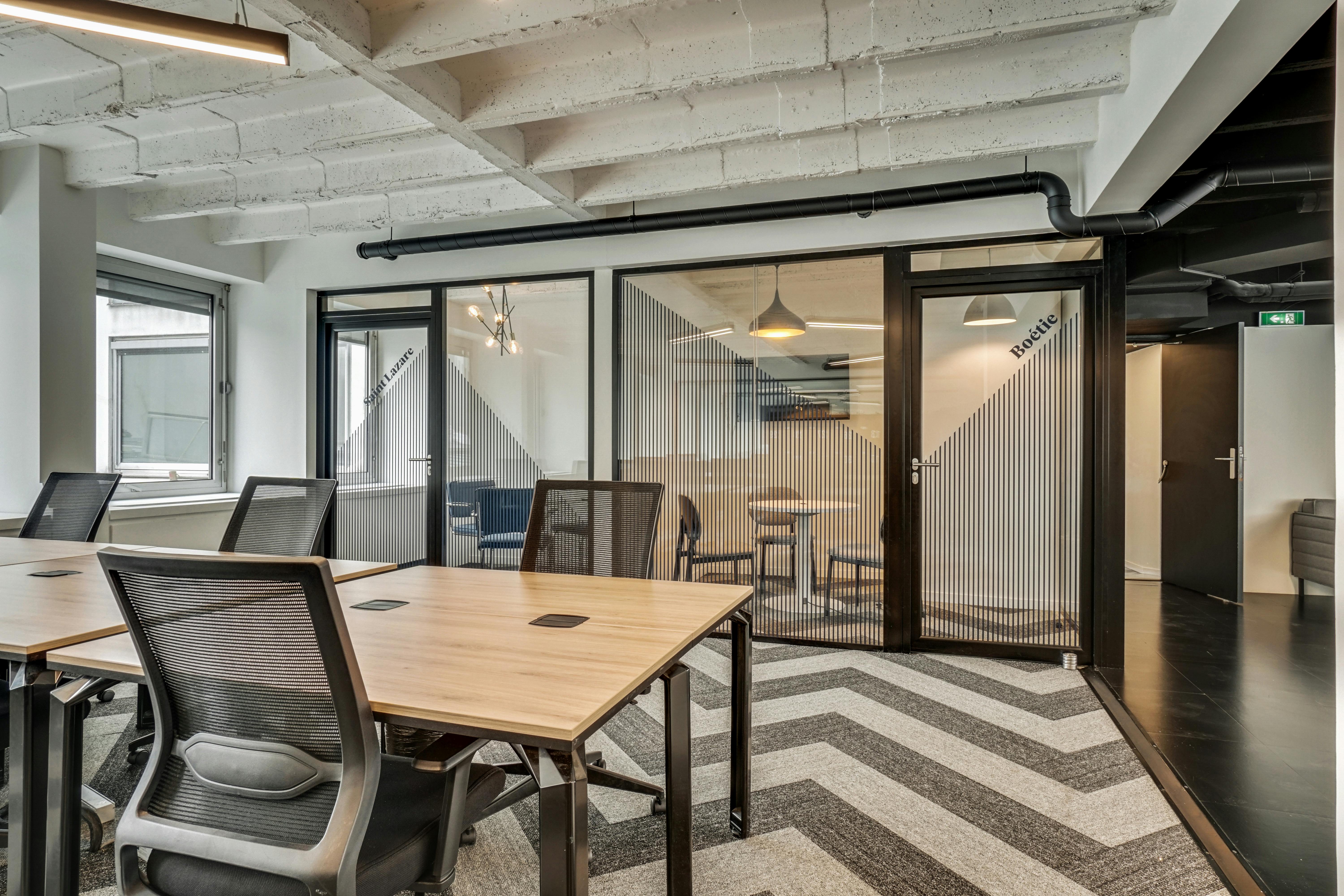 What is the minimum surface area required for a workstation?
Workspace is important for the well-being of employees. The French Labour Code does not set a minimum size in m2 for an office. The Afnor NF X 35-102 standard provides a reference framework. In addition to the size of the office, it is important to arrange it in such a way as to optimise space.
Understanding legislation on the minimum surface area of a workstation
Legislation and references
The reference texts concerning the minimum surface area of workstations are :
The French Labour Code provides recommendations on workplace layout and employee safety. However, none of these stipulates a minimum surface area in m2. To supplement these legal recommendations, the Afnor standard should be consulted. These are not mandatory. Nevertheless, to guarantee optimum working conditions, employers are advised to refer to this reference text.
What does the law say?
According to the law :
The employee's workstation must allow freedom of movement in terms of height and surface, taking into account the furniture.
Each workspace must be comfortable and suited to the employee's activity.
The workspace must give priority to the physical and mental health of employees.
Occupational risk prevention measures must be organised in line with the constraints specific to the employee's activity.
The workstation must be accessible to disabled workers.
These recommendations apply to individual offices and collective workspaces.
The importance of workspace in employee well-being
The impact of the number of square metres per person in the office
According to the Afnor standard cited above, the number of square metres per person should be :
10 m2 for a single office ;
11 m2 for a shared office
15 m2 for a noisy collective workspace such as a call centre.
The document also specifies that :
In a closed office, the number of employees should be limited to 5.
If an office is less than or equal to 25 m2, its length should be less than twice its width.
If the surface area is greater than 25 m2, its length must be less than 3 times its width.
Criteria to be taken into account when fitting out a workstation
When fitting out a workstation, it is advisable to :
Provide a 120 x 80 cm work surface;
Provide circulation spaces of 80 cm for the passage of one person and 150 cm for the passage of 2 people.
Position the desks at a 90° angle and perpendicular to the windows. In this way, natural light is maximised without obstructing employees at eye level.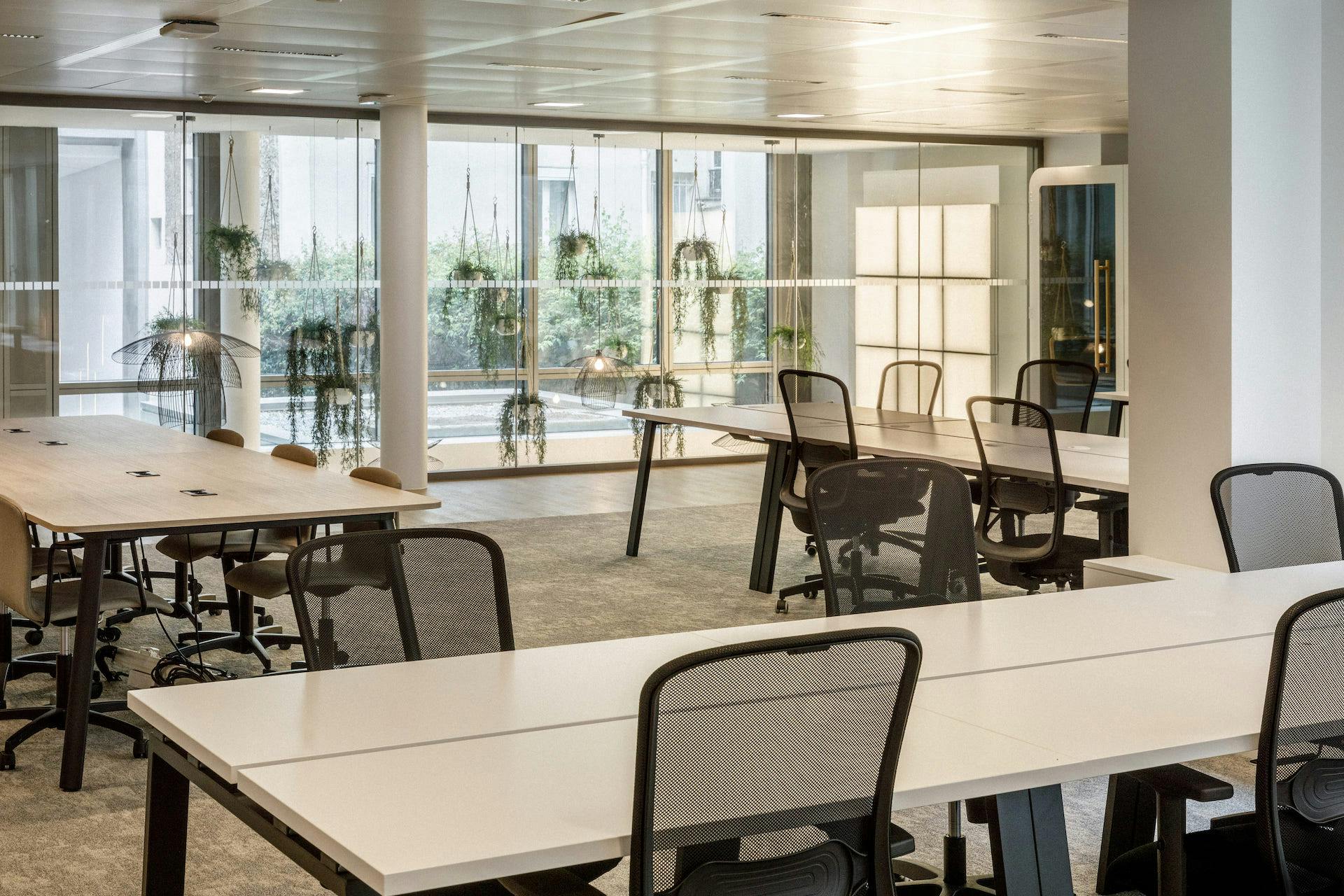 The layout of a workspace: individual office VS group workspace
Individual offices: advantages and disadvantages
An individual office is a partitioned space conducive to concentration. It limits distractions and allows you to be more productive. It's a more intimate space that reinforces the impression of security. However, it reduces interaction between colleagues and does not encourage collaborative working. Employees may be tempted to surf the web and not get on with their tasks. What's more, a private office is more expensive in terms of space.
Workspace or group office: advantages and disadvantages
A shared office promotes good communication within the company. If a problem arises, employees can count on their colleagues to help them out. This encourages a positive state of mind. In terms of space, a shared office saves between 10% and 40%. However, this way of working can lead to concentration problems and lower productivity. Noise, for example, can be a nuisance.
Comparative table of the two types of layout
| Office type | Individual office | Shared office |
| --- | --- | --- |
| Advantages | Good concentration ; Sense of security; Increased productivity. | Interaction between colleagues ; Reactivity; Saving on work surface. |
| Disadvantages | No interaction with other team members; Loss of space. | Difficulty concentrating due to noise; Reduced productivity. |
How can I optimise my workspace according to its surface area?
What office furniture should I choose?
Choose office furniture with care, focusing on ergonomics. A straight, height-adjustable desk is ideal. It is suitable for all body types. A screen support or two screens make work easier. Choose an office chair with armrests. As for storage, drawers or mobile pedestals are a good solution.
Tips for a well-designed office
Design your office so that it is :
Exposed to natural light.
Equipped with storage space in the immediate vicinity, such as pedestals on castors, shelves or storage cupboards.
Delineate common areas and workstations, for example with half partitions.
Plant the space to make it more pleasant.
Related articles
Did you like this article? Then check out these additional articles:

Contact Us
We find your Perfect fit!