Community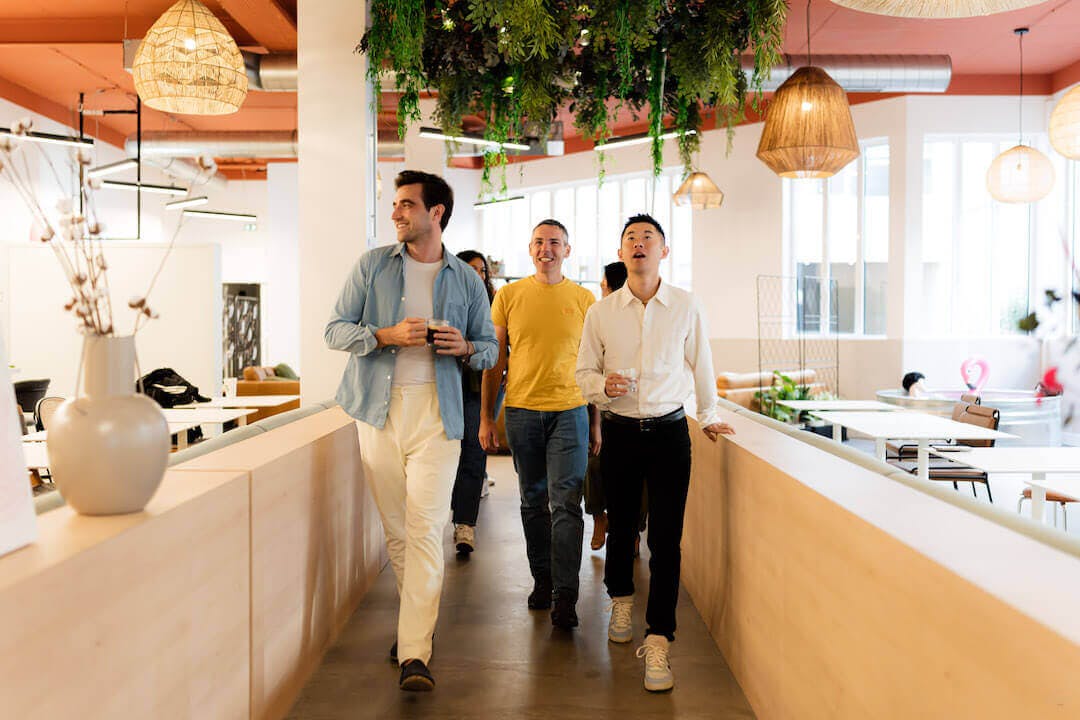 Deskeo, more than just offices!
Our mission at Deskeo? To create real living spaces that enhance the experience and productivity of employees. Today, we invite you to take a look at our clients' offices. Images that confirm how much we simply love our job. Thank you to our teams of passionate people for their daily commitment and their touch of madness, which are essential to the design of tomorrow's office ✨
Would you like to know more about these collaborations behind the scenes? It's over here!
SPRINKLR
Sprinklr is a unified customer experience management platform built on state-of-the-art artificial intelligence. The New York-based company, which is valued at several billion dollars, is located in the 9th arrondissement of Paris, in a magnificent modern building with unique architecture.
SORARE
Founded in 2018 by Nicolas Julia and Adrien Montfort, Sorare is THE football fans game. In just a few clicks, dive into the heart of an extraordinary virtual experience. Discover what goes on behind the scenes, from the search for a place capable of absorbing their meteoric growth to the customisation made to their space to retranscribe their multi-sport DNA.
FRICHTI
There is no need to present the success story of Frichti, one of the leaders in foodtech in France... But behind a company that is growing is also the problem of office space. This is the case for Frichti which, after moving 8 times in 5 years, turned to Deskeo to find, fit out and manage its new headquarters.
DECATHLON TECHNOLOGY
"Melts the shape" ! Supporting the growth of Decathlon Technology with offices adapted to their operations, in the heart of Paris, 100% in their image and which reflect their DNA: a major challenge which immediately appealed to us at Deskeo. A look back at this project with Jessica Picq, HR Project Manager at Decathlon Technology and Manon Monjardet, Environmental Brand Manager at Deskeo.
POTLOC
Founded in 2014 by Rodolphe Barrère and Louis Delaoustre in Montreal, the start-up specialises in market research through social networks. Potloc uses its own sampling technology in order to survey any audience typology and at any scale! With its strong growth, a complete reorganisation was necessary. Potloc moved into a magnificent space of more than 1,000 m2 located in Rue Saint-Anne.
GITGUARDIAN
GitGuardian is the French-American scale-up that is shaking up the tech world by popularising corporate data security. From the search for their new offices to the need to create a flexible identity headquarters to accommodate 30 new recruits by 2023, Elsa Sayag, HR Business Partner at GitGuardian and Lisa Camalet, Sales Account Executive at Deskeo, look back at the beginnings of this beautiful collaboration.
WETHENEW
Wethenew is the marketplace of reference for sneakers and limited edition streetwear items. We invite you to visit their offices, in the heart of the very dynamic Opéra district of Paris, in a very luminous space of nearly 600 m2, customized by Deskeo to best reflect their DNA.
FRONT
Front is a communication platform for companies created in 2014 by Mathilde Collin and Laurent Perrin. It allows you to communicate with the outside world (your partners, your customers) and aims to facilitate exchanges. Today, the company has 450 employees in 4 hubs around the world. Front was looking for a space that could accommodate all of its staff. A central space with character in order to attract talent, but also with a real living space to bring together and unite its teams.
We would be delighted to help you with your project!

Contact Us
We find your Perfect fit!